日本語クラス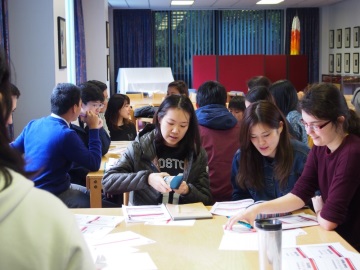 帝京大学ダラムキャンパスでは、帝京大生による無料の日本語クラスを開催しています。全くの初心者から上級者まで、どなたでも大歓迎です。開催期間は毎年春期(5-7月)と秋期(10-12月)の2回です。
通常、毎週水曜日の午後2時から3時までとなっています。
現在、日本語クラスは行っていません。2022年、再開となる予定です。
<場所> LHCC, Mill Hill Lane, Durham, DH1 3YB.
詳細についてはお問い合わせは、EFLコーディネーターのヘレンまで。
Free Japanese Lessons for All
Our students offer FREE Japanese lessons which are open to all abilities – total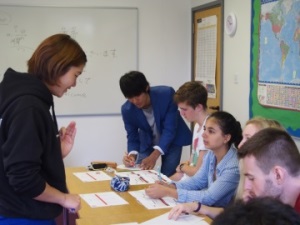 beginner to advanced. They usually run in spring (May - July) and in autumn (October – December).
Classes run on Wednesday afternoons, 2-3pm at our teaching centre, LHCC, Mill Hill Lane, Durham, DH1 3YB.
There are no Japanese classes in 2021. Our cultural activities will start in 2022. (Start date TBC)
Sadly, due to the ongoing pandemic, we will not be running any Japanese Class or Cultural Exchange during 2021. If you are interested in studying Japanese online, our colleagues at Durham University Centre for Foreign Language Study are offering online programmes for all levels and abilities for a fee. Please check this link if you're interested and contact them directly if you have any queries: https://www.dur.ac.uk/cfls/languagecourses/
For more information, contact Helen McAree (EFL Coordinator) helen.mcaree@durham.ac.uk
Are you learning Japanese or interested in Japanese Culture?
We have just purchased a new selection of self-study Japanese books and language guides in English. They are perfect if you want to learn some basic phrases or start your language learning journey. Most of the books are accompanied with a CD too. They are now available for loan from our Library at LHCC.
We also offer a Language Partner Scheme, if you would prefer more 1 to 1 practice or cannot make the class time. This scheme operates throughout the academic year (April – February).
There is no Language Partner Scheme in 2021. We hope to resume this programme in 2022.
For more information, contact Helen McAree (EFL Coordinator) helen.mcaree@durham.ac.uk