Welcome to Teikyo University's home in Durham
Established in 1990, Teikyo University of Japan in Durham (TUID) is an active branch campus of the Teikyo University Group in Japan, and it has been playing a key role in embodying the University's three educational policies: Practical Learning, Developing International Perspectives and Nurturing Open-Mindedness.
In April and September, each year, we have a group of about thirty Japanese students from Teikyo University in Tokyo here on this campus. They come to Durham to improve their communication skills in English by taking English classes and also to strengthen mutual understanding and friendship with Durham University students and local people by interacting with them. By joining our study-abroad programme, they are seriously able to embody the university's educational policies.
Latest News
Scholarship Programme> Teikyo University provides scholarship programmes for international students. Please click here for more information.
Jack uploaded a new blog entry on Farewell Dinner for Autumn students. Please have a look!
Well done for our Autumn students! You completed the 2019 Autumn - Winter Course in Durham. Hope you have a safe journey home and keep enjoying your improved English skills in Japan!
Our new students are arriving in April and they are starting Free Japanese Lessons in May 2020.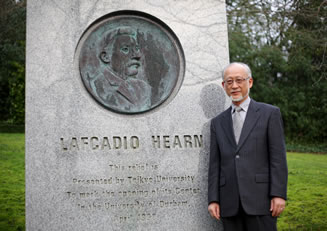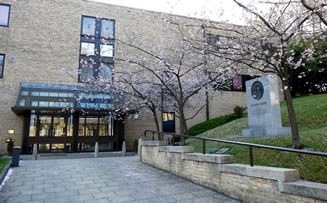 We have three buildings on the campus of Durham University. One is a University Lecture Building where Teikyo University students from Japan study mainly English, and the other two are Halls of Residence where our students and Durham University students live.
Our main building, called "Lafcadio Hearn Cultural Centre," is named after a Greek-born Irish writer Lafcadio Hearn (1850 – 1904), who spent his teens (13 – 17 years old) studying at Ushaw College in Durham. He then went to America and became a journalist working for several newspaper companies. In 1890, he went to Japan and became an English teacher in Matsue and in Kumamoto and later became a Professor of English Literature at the-then Tokyo Imperial University (today's Tokyo University). He was a prolific writer of books about Japanese folk tales and English Literature. Since he acted as a powerful 'literary bridge' between Japan and the Western world, our University found it very appropriate to title the building in his name.
I do hope that having Teikyo University here in Durham is meaningful both for Japanese students and for Durham University and its students, as well as local people.
Professor Masao Imaseki
Principal