Support our Students
There are several opportunities for members of the public and local businesses and organisations to contribute to the development of our students.
Alongside EFL classes which the Japanese students attend here in Durham, they also have many other opportunities for learning and are actively encouraged to engage in at least one of our schemes. The one main aim is to encourage our students to engage in conversation with English speakers outside of the classroom environment and actively practice their developing skills.
---
Work Experience
The TUID work experience programme gives students a direct experience of British working culture, whilst providing another opportunity to develop their communication skills. Some examples of the kinds of placements that have been established include sports related placements, placements within local businesses (cafés and hairdressers), placements within charities (Durham Cathedral and the local Foodbank) and placements at local primary schools. Students are carefully selected for their placements based on their interests and suitability for the role. Throughout the programme, students are encouraged to reflect on their experience and development, making their experience more valuable and constructive.
We are always looking to expand our Work Experience programme. If you are interested in offering a voluntary placement to our students, please contact Helen McAree (EFL Coordinator) on helen.mcaree@durham.ac.uk for further information.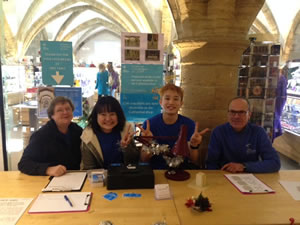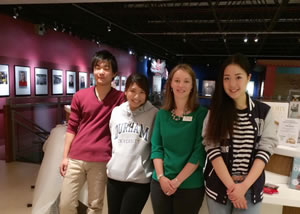 ---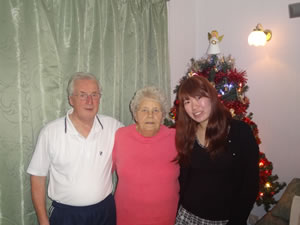 Host Family Scheme
This is a very successful scheme which is coordinated by EFL staff. Host families have a general interest in Japan and/or international students and are keen to encourage and support the TUID students while they are in the UK, particularly if students are nervous about trying to engage in cultural experiences. Through regular meetings and shared cultural events, they encourage TUID students to speak English in a natural environment. Selected TUID students are matched with a host family and enjoy a range of cultural experiences with them. These activities could include dinner in the host's home, visiting cultural events, sightseeing and trips to local coffee shops and cafés, depending on the interest of the host family.
Host families vary from young Durham professionals to retired couples, but they all have in common a desire to see the TUID students flourish during their time in Durham.
If you are interested in taking part in any of the above schemes, please contact Helen McAree - helen.mcaree@durham.ac.uk.
---
Language Partners
All students are given a Language Partner. These are volunteer students from Durham University who belong to the Christian Union (DUECC). The students are encouraged to meet their language partners at weekly events called Open House and i-Club, organised by the Christian Union In conjunction with the our EFL department. Different activities take place each week, offering our students the opportunity to learn and use new vocabulary in a natural conversational setting whilst experiencing different cultural opportunities.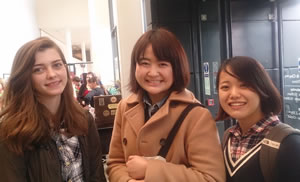 ---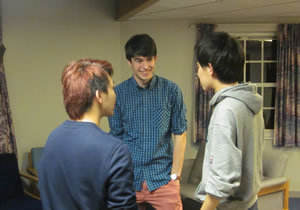 Cultural Exchange Programme
The Cultural Exchange involves our Japanese students meeting Durham University students who are interested in learning about Japanese culture and language. The scheme offers English conversation and experiences alongside sharing knowledge about Japan which the students arrange independently after being matched to an appropriate partner by EFL staff and meeting in the Lafcadio Hearn Cultural Centre for the first time.
The concept of cultural exchange works very well and the students enjoy being able to exchange knowledge in an informal setting, often arranging to attend events and activities with their Cultural Exchange partner.
---