図書室
日本に戻れる空間 …
日本庭園に面した図書室には、30,000冊を超える日本語書籍があり、まるで日本に戻ったよう。英訳された日本の漫画やアニメ映画も借りられます。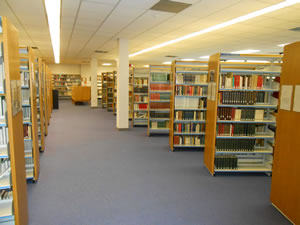 ご利用について
帝京大学ダラムキャンパスおよびダラム大学の学生や職員は、自由に本やDVDを借りられます。また一般の方も、申請していただければ、ご自由にご利用できます。お気軽にお立ち寄りください。
開館時間
月曜から木曜日 9:00-17:00
(金曜から日曜日、および大学の長期休暇中は閉館となります。)
Library
In the library you will feel as if you are in Japan, surrounded by a collection of over 30,000 books in Japanese. This is the perfect place to read and revise quietly, looking out over the serene Zen garden. The main subject emphasis is on Humanities and Social Sciences. In particular, we hold books on Japanese History, Literature and Arts. In addition, we have a wide collection of Japanese comics (Manga) in English. There is also a good selection of DVDs including Japanese animation films, mostly in the English language.
Are you learning Japanese or interested in Japanese Culture?
We have just purchased a new selection of self-study Japanese books and language guides in English. They are perfect if you want to learn some basic phrases or start your language learning journey. Most of the books are accompanied with a CD too. They are now available for loan from our Library at LHCC.
Membership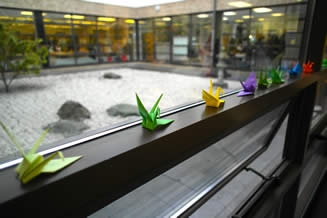 Students and staff from Durham University are fully entitled to borrow books and DVDs. The public may request membership, which is granted at the discretion of the Principal.
Opening Hours
Monday to Thursday 9:00 – 17:00 during academic term time.
(Closed on Fridays, weekends, and during academic holidays.)
For further information, please contact the Librarian on 0191 334 5122 or email miki.binks@durham.ac.uk.