Blog: Teikyo University Championship
Staff Blog
Added Monday 31st July 2017 by Steven Wilson (Return to Blog)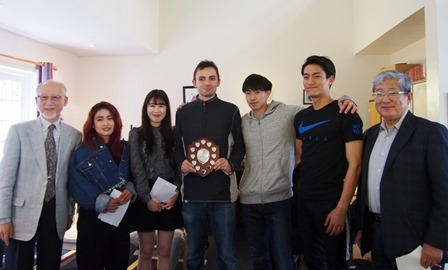 激しい競争期間の後、コリングウッドカレッジがトロフィーを獲得しました。最後ポイントが急増した為765ポイントとなり、3位から1位に登りつめました。セント・メアリーは660ポイントで2位、ヴァン・ミルダーは630ポイントで3位、グレーは580点で4位となりました。
授業やスポーツでの成績、大学でのイベントや地域社会への参加を通じて、学生達は多くの熱意を示してくれました。
コリングウッドカレッジは良く頑張りました!
After a competitive term which witnessed each college at the top of the college points table, the trophy will go to Collingwood College, who finished with 765 due to a last minute surge of points which took them from third place to first! St Mary's will finish in second place with 660 points and Van Mildert in third place with 630 points. Grey will finish in fourth place with 580 points.
It has been great to see the students show a great deal of enthusiasm when gaining points for achievements in class, when playing sport and through engagement in events in college and the wider local communities!
Well done to Collingwood College!
---
Return to Blog
Added Monday 31st July 2017