Blog: Farewell BBQ and College Points Competition Results
Added Thursday 26th July 2018 by Jill Johnson (Return to Blog)
7月19日、夏晴れの素晴らしい天気に恵まれた中、夏前のお別れバーベキュー大会が開催されました。ここで今期に獲得したカレッジポイントを競う勝者の発表も行われ、またもバンミルダート・カレッジが優勝。メンバーのRyubi、Ryuta、Mutuaki、担当講師スティーブンに優勝盾が渡されました。
Thursday 19th July was a glorious sunny day-the most perfect weather for the end of term barbeque here in Durham.
The students were incredibly helpful, assisting with shopping, preparation and cooking the food perfectly. A wide variety of food was prepared to suit all tastes and diets, accompanied by fresh salads and finished off with toasted marshmallows.
As is traditional the College Shield was awarded to the college which has accumulated the most college points over the term. Van Mildert College won the trophy once again, for the fourth time! The Van Mildert college members:-Ryubi Nagata, Ryuta Kasama and Mutsuak i Kuno were delighted to receive the trophy, alongside their college tutor Mr Steven Wilson.
All in all it was a great event enjoyed by staff and students alike-let's hope we have such good weather next year!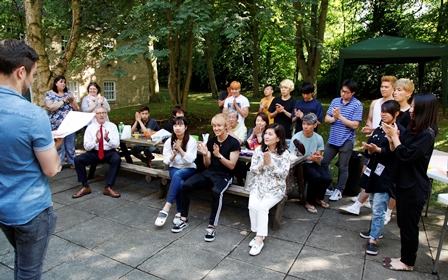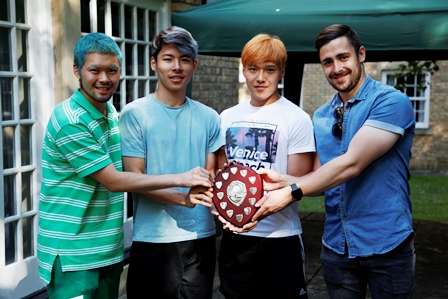 ---
Return to Blog
Added Thursday 26th July 2018