Blog: Barcelona
Added Friday 23rd June 2017 by Nick Purdon (Return to Blog)
先週、22名の帝京大ダラム分校生たちはスペインへ研修旅行に出かけました。天候に恵まれた4日間、スペイン料理パエリヤやフラメンコを楽しんだり、カンプ・ノウ・スタジアム、ビーチの散策はもちろん、ガウディやピカソの美術作品に触れたり、スペインの文化にたっぷりとひたる充実した旅だったようです。
Last week, all twenty two of our Teikyo students spent a very warm four days in Barcelona. After a safe journey and arrival in Barcelona on Wednesday evening, the next day was spent in the heart of Barcelona city. Here we walked the famous La Rambla street, sampled the food on offer at La Boqueria market and in the evening tried some Spanish paella followed by watching a performance of local flamenco dancers.
Friday offered the students a choice of morning activities. Many chose to visit the Camp Nou, FC Barcelona's 99, 000 seater stadium, where they had an opportunity to explore the stadium and spend money at the FC Barcelona megastore. Others chose to visit Gaudi's "La Pedrera", built in 1905-1910 as an apartment block and office space showcasing Gaudi's famous architectural style. In the afternoon, all students came to the beach to relax and enjoy the sunshine. Activities there included swimming, sunbathing and beach volleyball. The evening's entertainment was at Montjuic's water fountain, especially lit-up in the dark.
On Saturday morning, students chose between looking at Picasso's artwork in the museum and looking at chocolate sculptures in the chocolate museum. In the afternoon as a group we marvelled at La Sagrada Familia, the still-under-construction Catholic Cathedral; Gaudi's most famous work. In the evening, students had their first experience of sharing Spanish tapas together at a modern restaurant in the city centre. On the final morning, we ascended the steep hill up to Parc Guell, a public park designed by Gaudi in 1900 followed by a last chance to buy souvenirs and sample Spanish food in the afternoon. Everyone had an enjoyable and cultured few days away.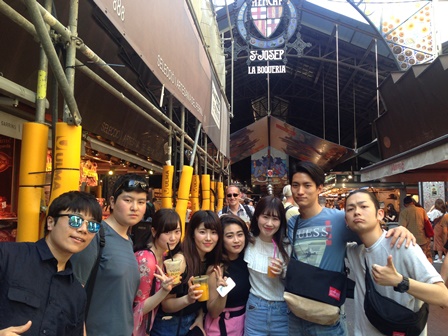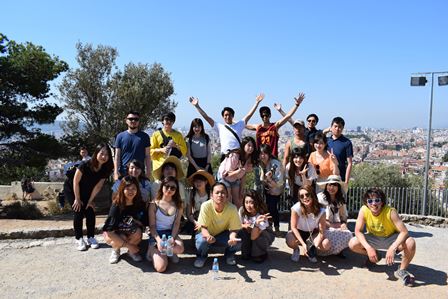 ---
Return to Blog
Added Friday 23rd June 2017