Blog: INSPIRE Cycle Challenge
Added Tuesday 21st June 2016 by Helen McAree (Return to Blog)
英国ダラムからドイツのリューデンシャイドまで650マイル(約1046km)を48時間で走破!そんなチャリティーイベントが行われています。
Durham, UK to Ludenscheid, Germany – 650 miles in 48 hours
Our students are currently taking part in a charity cycle challenge – cycling 650 miles from Durham to Ludenscheid on our exercise bike based at LHCC.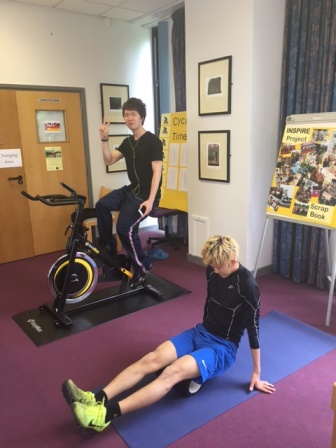 The challenge is raising money and awareness of INSPIRE which is a project supporting young people who reside at SOS Kinderdorf in Ludenscheid, Germany. The young people are living there because they are from difficult backgrounds or domestic circumstances. The INSPIRE project aims to improve young people's self-esteem and confidence by teaching them English in an informal setting and exposing them to aspects of British culture. There are 2 main projects a year, a winter camp in Germany at the Childrens Village where volunteers provide English workshops, sports and activities. In addition, there is a summer camp based in Durham when the young people visit to explore British culture first hand.
The overwhelming positive outcome of this event is that we have seen so many different groups of people joining together to cycle the distance required. As well as our Teikyo students, EFL teachers, Bursar, Housekeeper and Porter, we have also had assistance from Team Durham Community Outreach, Hatfield, Van Mildert, St Mary's and St Aidan's students, the Deputy Mayor of Durham (who kindly started us off) as well as many members of the local Durham community and friends of INSPIRE. A real team effort!
The finale of the event will be celebrated with a cake sale and raffle with all proceeds going directly to INSPIRE.
Thanks to everyone who has supported this event, either by cycling, baking cakes or cheering on our volunteers.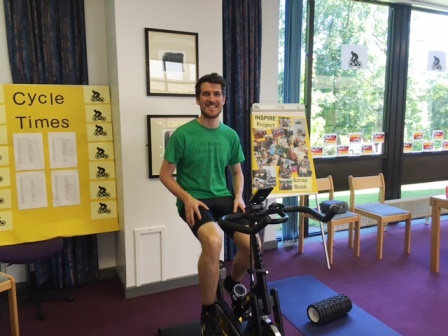 ---
Return to Blog
Added Tuesday 21st June 2016